Being a scientist is not easy but doing so in the company of like-minded people helps. Daniel Gallego, Edda Hobuss, and Layla Xholi participated in a week-long workshop organized by the University of Maryland called GRAD-MAP. During this intense week, they had the chance to meet great physicists, tour labs and observatories, be introduced to Python, and gain some research experience. In this article, they share their experience and invite students to apply to this interesting program.
During the winter, the Department of Astronomy and Physics at the College of Computer, Mathematical, & Natural Sciences of the University of Maryland offers students an intensive week-long workshop. During this week, students have the chance of participating in practical and honest discussions about internships, graduate school, career options, tutorials on Python programming, and also conduct a mini-research project under the mentorship of a research faculty member. Tours of local scientific facilities such as the NASA Goddard Space Flight Center and the National Radio Astronomy Observatory at Green Bank are also organized. This year, Edda, Daniel, and Layla had the pleasure of participating in this workshop.
The GRAD-MAP team was composed of graduate students from the University of Maryland, who were supported by faculty, staff, and volunteers. Everyone was incredibly welcoming and passionate about their topics of study. The program aims at promoting grad school and research to students from underrepresented minorities. Among the cohort, there were no two people of the same background. It was very empowering to see such a diverse crowd even if the field does not seem to be so. This year's cohort was inclusive, comprised of students from community colleges and underrepresented minorities. The workshop was also accessible to students with disabilities, and one of the participant with vision impairment was able to engage in all of the activities. All were hardworking, friendly, and passionate about astrophysics. If anyone has had doubts about fitting in, they certainly found someone with their interests within this vast group of people.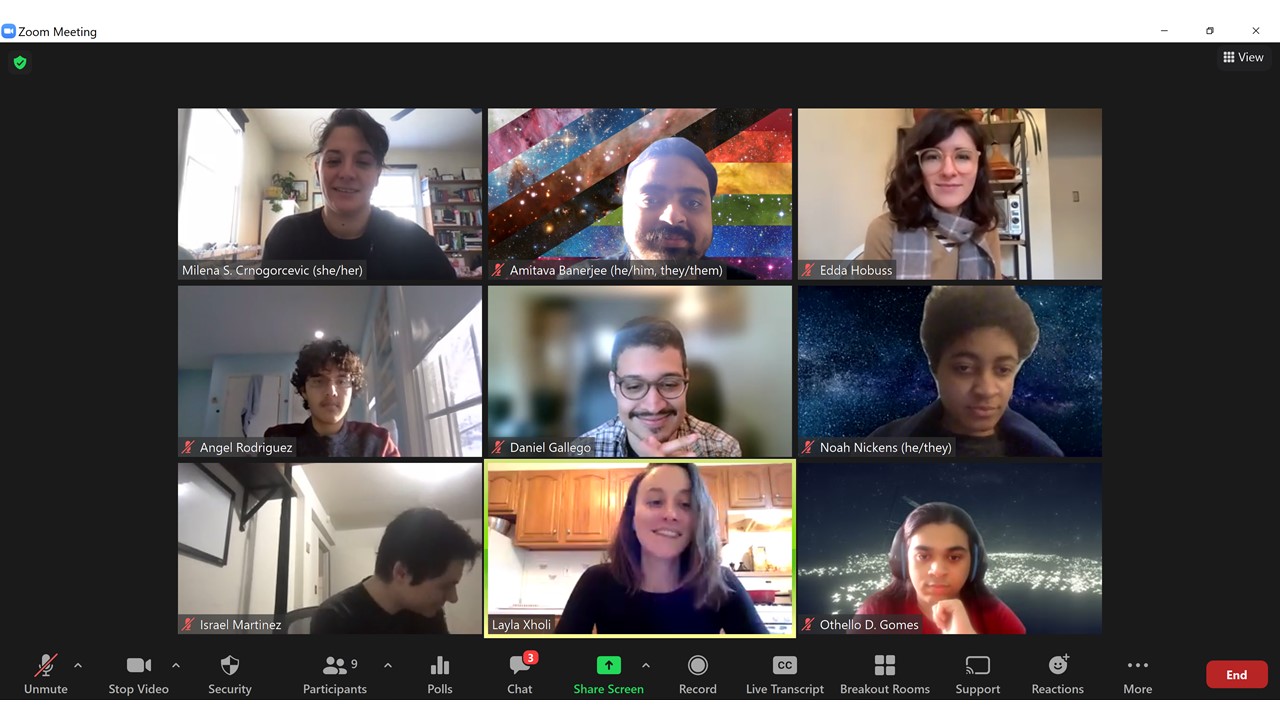 A zoom meeting during the workshop.
During this tightly scheduled week, the students had the pleasure of meeting the cosmologist and Nobel laureate Dr. John Mather, the assistant director for Research Infrastructures & Science Equity at the White House Dr. Kartik Sheth, the exoplanets researcher Dr. Kevin Stassun, and several other scientists. The meetings provided opportunities for participating students to ask the scientists questions about their journeys in the field of physics and the way they ended at their current position. During lunch breaks, students could chat with professors, directors, and Ph.D. candidates about all kinds of topics. The discussions ranged from the scientific accuracy of movies such as Interstellar and The Martian, to who was their favorite bands. Participants also shared their most interesting experiences. Daniel was delighted to discover that some of the hosts were responsible for naming tidal disruption events after Game of Thrones and Star Wars characters. Near the end of each day, there was a breakout session where the organizers helped everyone with research and coding questions before concluding the day with games, dinner, and amusing conversations.
One of the most important and exciting aspects of the workshop was participating in a research environment. Students were designated a partner, and each pair was assigned a mentor. Daniel conducted his project under the mentorship of Dr. Komacek, a theoretical physicist whose research focuses on the atmospheric dynamics and climates of exoplanets. Each day they spent a great deal discussing the properties of the climate on Earth and why certain things worked the way they did. They applied their newly acquired Python skills to their research almost every day. In addition, with the help of Dr. Komacek the team observed and analyzed data on a tidally locked terrestrial exoplanet. Daniel found their approach especially interesting, they looked at it critically and tried to theorize reasons as to why certain climate patterns behaved differently on a tidally locked planet as opposed to Earth. This approach meant thinking like a true scientist, an invaluable skill for this career.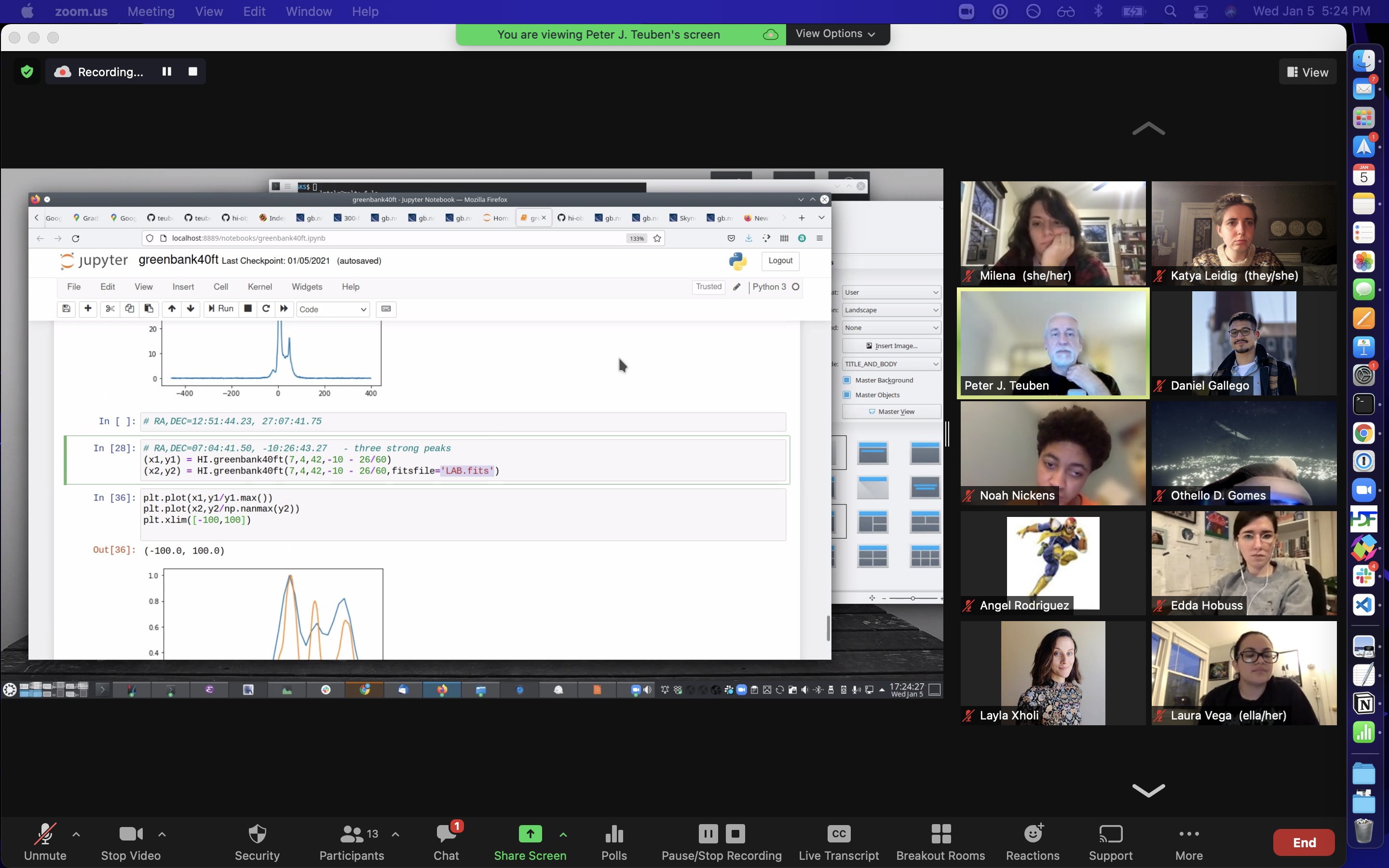 A zoom meeting during the workshop.
Daniel, a peer, and his mentor spent a great deal of each day discussing the properties of the climate on Earth and why certain things worked the way they did. Almost every day they would apply their newly acquired Python skills to their research, and with the help of Dr. Komacek they observed and analyzed data on a tidally locked terrestrial exoplanet. What Daniel found especially interesting was that they approached this topic critically and tried to theorize reasons as to why certain climate patterns behaved differently on a tidally locked planet as opposed to Earth. This meant truly thinking like a scientist, an invaluable skill for this career.
Edda and Layla collaborated with Elizabeth Warner, the observatory Director who participated in many campaigns to observe occultations, one of them being the moonlet of Hi'iaka. They chose to study "light curves," a topic that they did not know much about. The subject was the only one offering the possibility of hands-on observation at the UMD Observatory. Under miss Warner's supervision, they had the opportunity of learning how to use telescopes and cameras to collect data on a particular object. They decided to track the two asteroids Fulvia and Venetia, and the eclipsing binary system V0152 Cam. After choosing their targets, which telescopes would do the best job in getting the images they needed, and setting them up, came the hardest part: finding the asteroids and the stars in the sky. Edda and Layla did not expect it could be as complicated, as it took them two hours. Miss Warner made sure to make it as interactive as possible and the two were able to observe as she tracked the targets. The following day the research team downloaded the pictures, uploaded them into the software AstroImageJ and got parts of the light curves. Unfortunately, a snowstorm caused them to have only one day of observations. According to Layla, observing an eclipsing binary was one of the most exciting things she ever experienced and being able to watch the path of the asteroid on her computer screens seemed unreal.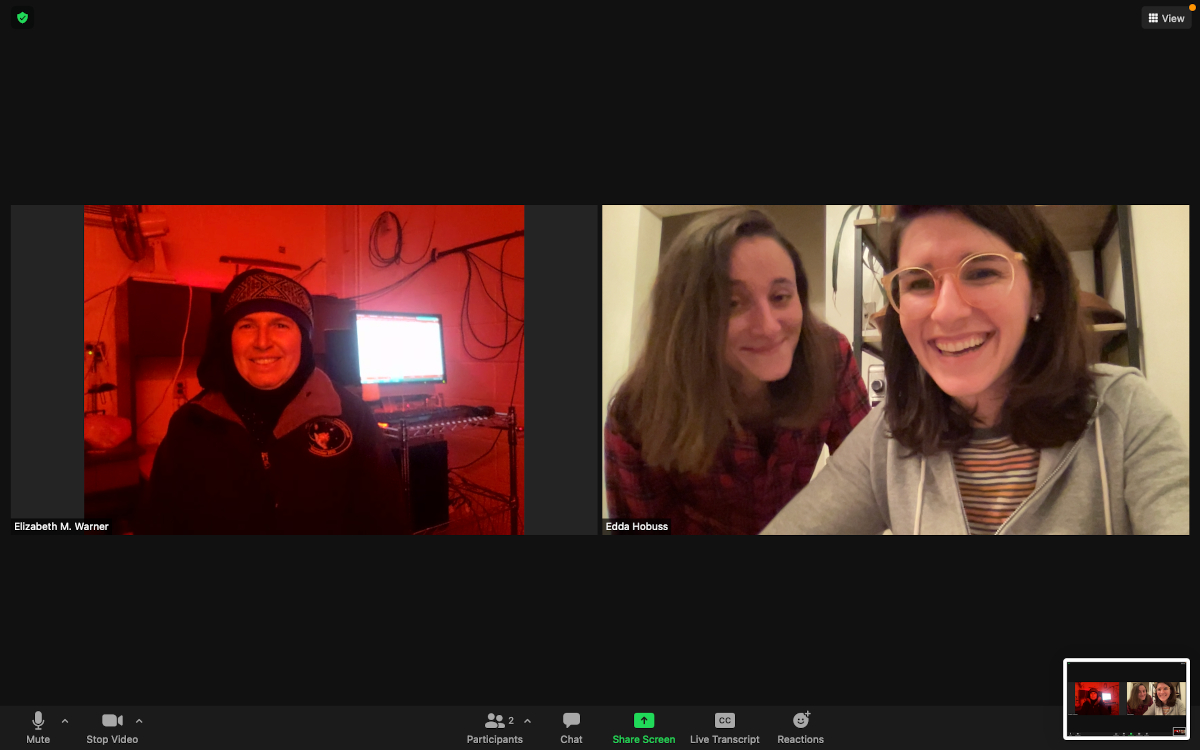 A zoom meeting with Dr. Elizabeth Warner.
At the end of the week, the students presented their research and answered questions from faculty, friends, and family.
Daniel is a physics student, who is fascinated by black holes and is already participating in research in New York City. He changed careers to pursue his astronomical dreams and being a part of GRADMAP made him feel like he made the right decision. Layla is an environmental engineering major but has been increasingly considering a career more oriented around astrophysics. This workshop was the opportunity for her to explore that path and help make a more informed decision. Edda is a physics student, who is passionate about science education. She had the best time during this week meeting famous researchers, as well as getting career tips from them.
After meeting so many like-minded people, these space enthusiasts were left truly motivated and confident about their future. They had many of their questions about research, grad school, and career decisions answered by experienced people. It was comforting to them to hear that experts in the field also fight impostor syndrome, uncertainties, and go through similar worries and emotions.
Never had they imagined learning and enjoying this program as much as they did. The GRAD-MAP team was truly amazing. They were welcoming and incredibly passionate about their research and interests. Even though the workshop was online, the three students were able to tour labs and meet accomplished physicists doing great work. Furthermore, they met like-minded people, made new friends, learned more about physics and the profession, and had a great week. Astrophysics can seem like a very intimidating field, but this experience made them realize there are many incredible people in the field and many options available to undergraduate students.
Daniel, Edda and Layla strongly recommend anyone interested in the field to participate in the program. The University of Maryland also offers a summer internship structured as a more traditional research experience for undergraduates (REU). Anyone interested can apply to the winter workshop with the link below. If students are interested, there are several workshops similar to this one all over the country. REU's can also be searched for directly from the NSF website.
Links and resources:
[1] Graduate Resources for Advancing Diversity with Maryland Astronomy and Physics, https://www.umdgradmap.org/
[2] Research Experience for Undergraduate at the NSF website, https://www.nsf.gov/crssprgm/reu/