1 Background
Phosphorylation: Protein phosphorylation involves catalytic addition of phosphate group from adenosine triphosphate (ATP) on serine/threonine/tyrosine residues of a protein [1]. Once a protein is phosphorylated by a kinase, the phosphorylation event can cause conformational and functional changes in the protein to either turn-on or turn-off the protein – an effective way to regulate protein functions [2]. It is estimated that about 30 percent of proteins exist in phosphorylated form at any given time in a cell, which indicates that the phosphoproteomics has vast and vital role to play in regulating various cellular processes [3].
HIV: Human Immunodeficiency Virus (HIV-1) is a causative agent of AIDS (Acquired immunodeficiency syndrome). HIV-1 specifically target host defense cells, notably CD4+T cells, and progressively destroys the ability of the host to fight HIV infection and make the host prone to other diseases. The HIV-1 virus uses various host factors for its replication; therefore, the infectivity of HIV-1 virus greatly depends on the interactions of viral components with various host factors [5].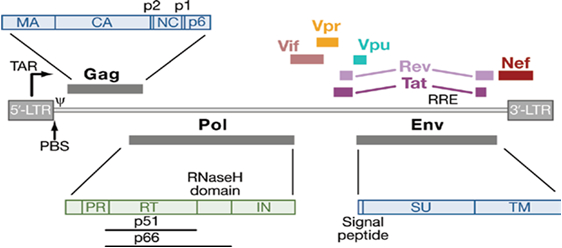 Hypothesis: A few reports have been published till the date demonstrating that phosphorylation events regulate the functions of various viral proteins and play a vital role in HIV infection [6, 7], however, there is still a need for a comprehensive database. The aim of this investigation is to identify one or more novel potential phosphorylation sites across various HIV proteins and to introduce a definitive database of host-cell kinase/HIV phosphorylation substrate interactions, which may prove as a strong pillar for further investigation of anti-HIV therapeutics.
2 Experimental Workflow
We aim to achieve the goal by following these strategic steps:
Step 1: Multiple sequence alignments of individual HIV-protein: We have constructed multiple sequence alignments using 12 different strains of HIV to identify conservation in phosphorylation sites across each HIV protein using ClustalW software. The conservation of phosphorylation sites in a protein reflects their possible biological importance in function of HIV-1 protein. In our study, we focus specifically on the Serine (Ser), Threonine (Thr) and Tyrosine (Tyr) residues that demonstrate low entropy and conservation across different strains.
Step 2: Kinase-specific phosphorylation site prediction algorithms: HIV protein sequences have been evaluated by web-based kinase-specific phosphorylation site prediction algorithms such as NetPhosK, GPS (Group-based prediction system) and KinasePhos. These algorithms not only provide prediction of potential phosphorylation sites in HIV proteins but also identify the host-kinase with prediction scores for each possible phosphorylation site.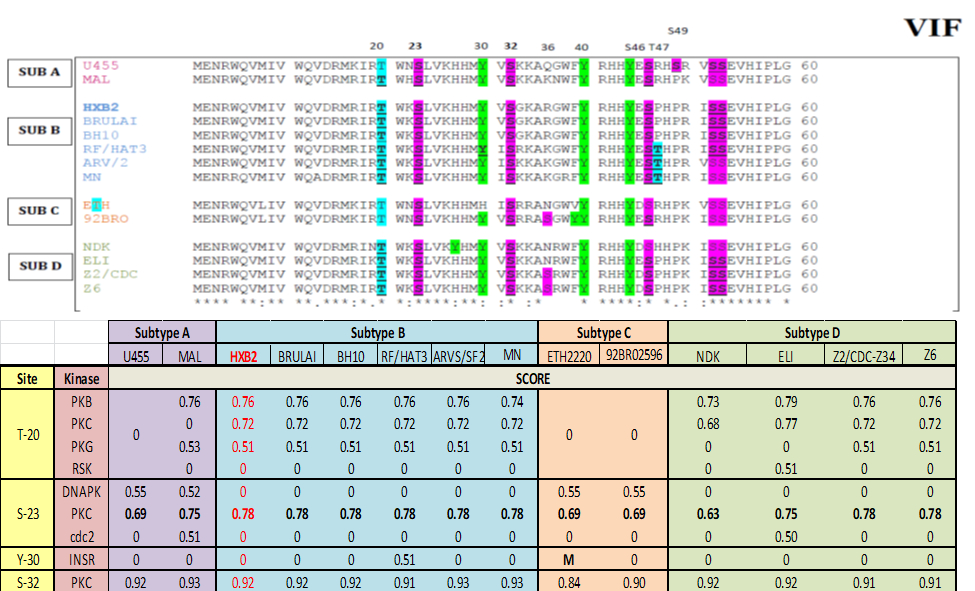 Step 3: In-vitro kinase assay of HIV-peptides and proteins: Libraries of short synthetic peptides derived from HIV proteins sequence containing candidate phosphorylation sites (identified from step 1 and 2) are subjected to in-vitro kinase assay with respective kinases in presence of ATP. Kinase activity is assayed using MALDI-ion trap mass spectrometer. Preliminary hits from this initial screening are then be evaluated on protein level.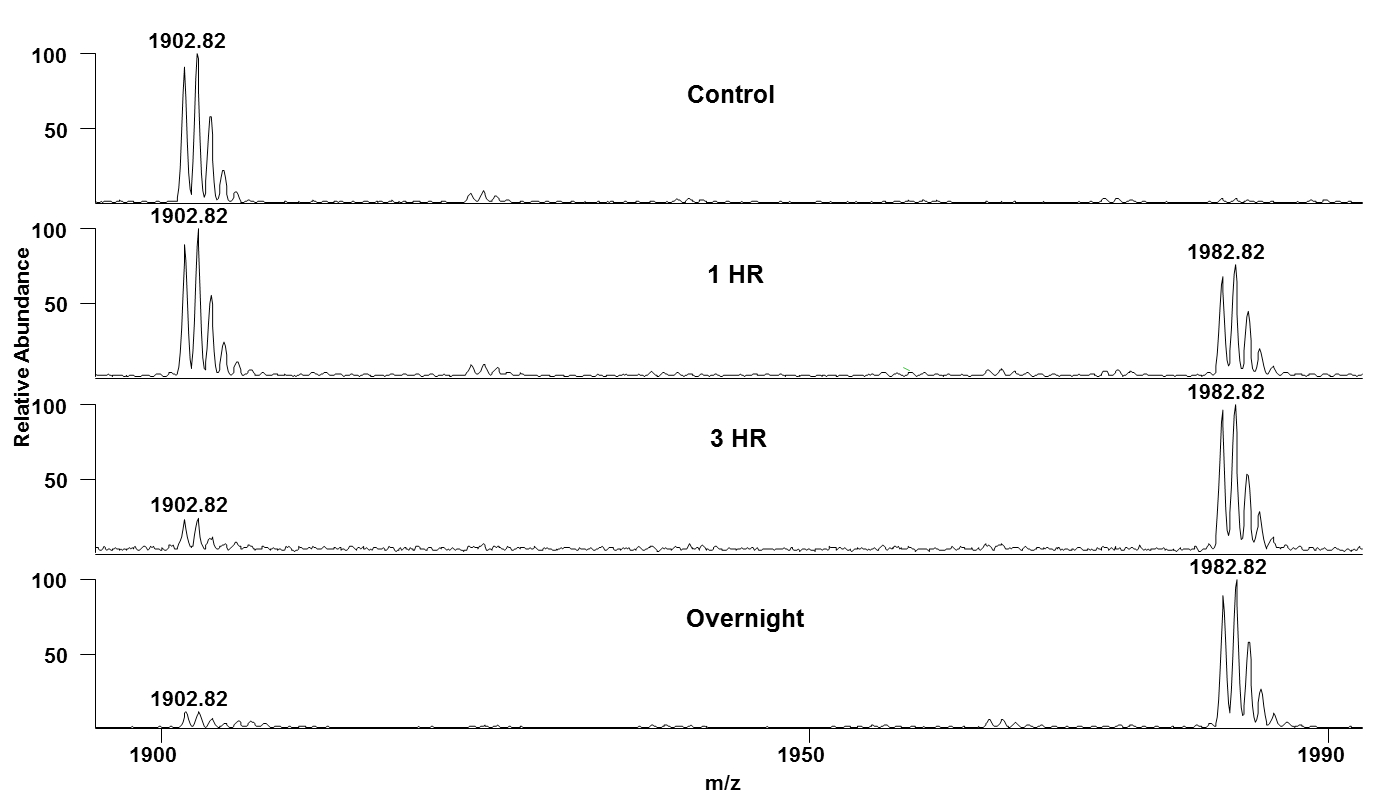 In this ongoing investigation, we have successfully identified and characterized more than 4 phosphorylation interactions till the date. This study will continue to confirm biological relevance of these identified in-vitro phosphorylation sites and generate comprehensive database of phosphorylation interactions between host-kinase and HIV protein sites.
References
[1] Mann M, Jensen ON, Nature Biotechnology, 2003; 21(3):255.
[2] Mann M, Ong SE, Grønborg M, Steen H, Jensen ON, Pandey A, Trends in Biotechnology, 2002; 20(6):261-8.
[3] Dephoure N, Gould KL, Gygi SP, Kellogg DR, Molecular Biology of the Cell, 2013; 24(5):535-42.
[4] Swanson CM, Malim MH, Cell, 2008; 133(4):742.
[5] Brass AL, Dykxhoorn DM, Benita Y, Yan N, Engelman A, Xavier RJ, Lieberman J, Elledge SJ, Science, 2008; 319(5865):921-6.
[6] Barnitz RA, Wan F, Tripuraneni V, Bolton DL, Lenardo MJ, Journal of Virology, 2010; 84(13):6410-24.
[7] Leng J, Ho HP, Buzon MJ, Pereyra F, Walker BD, Xu GY, Chang EJ, Lichterfeld M, Cell Host & Microbe, 2014; 15(6):717-28.