Like in other cultures, the Moroccan wedding involves social gathering, gift-giving, traditional dress, music, dance, and food. The wedding rituals represent a privileged moment where several rituals (rites of passage, rites of separation, rites of fertility, etc.) come into play. While there is no uniformity in celebrating a wedding, there are various core elements that are representative of a "Moroccan wedding." Let me introduce you to some of them through the eyes of Fadwa and Omar who married recently. They met through mutual a friend, secretly dated for months before deciding to officialize their relationship. Their alliance conforms to the traditional conception of marriage: a family affair which is negotiated between the respective parents.
Marriage Proposal: During the first meeting that introduced both families through an intimate gathering of parents and adult siblings, Omar's family formally asked for Fadwa's hand. This ritualized moment underlines Fadwa and Omar's conformity to parental and societal expectations in the matrimonial domain. During the second meeting, Omar and his parents came back with gifts for Fadwa (perfume, jewelry, clothing, flowers, chocolates, and pastries) to cement the alliance and seal a bond between these two individuals and their families. The third meeting was more official and involved more guests: the khutuba/engagement ceremony took place in the presence of two adul/notaries during which Fadwa and Omar signed the marriage contract. The wedding ceremony could now take place at the planned date. It started with weeks of preparation for this crucial day, a public celebration incorporating symbolic objects and practices.
Hammam Day: In the traditional neighborhood steam bath, Fadwa was treated like a queen by her friends, relatives, and neighbors. They scrubbed her body, washed her hair, cracked jokes, and sang. They could have gone to a more modern spa, but it would have been costlier and not as fun.
Henna Party: During this gathering of female friends and relatives, Fadwa wore a caftan (Moroccan dress) and a henna artist was hired to paint Fadwa's hands and feet with intricate designs symbolizing fertility and blessings. The attendees danced and chanted. Omar was with his male friends. They received a dot of henna in their hand palm, listened to music, and waited for the big wedding party the next day. The bride and groom families decided to share the costs and celebrate the wedding in a banquet hall instead of using their private houses.
Ammaria/Display: While family and friends were gathering hours before they were able to see the bride, sipping on tea and juices, listening to live music and dancing, Fadwa was busy with her assistants (neggafa) getting her ready with hair styling, make up, dress, and accessories. Fadwa was finally "displayed" in a platform ammaria carried on the shoulders of 4 adults. Fadwa, the queen of the ceremony, was honored by being above the guests' heads. Happy music and contagious rhythms were played to welcome the bride. Fadwa got out of the ammaria and set next to Omar after he was displayed too, wearing a white jabadour/male long embroidered coat. Over the ceremony, Fadwa changed into caftans/dresses three times, thus marking the highlight of the ceremony. Her last outfit was a white Western dress (instead of a white caftan) that she wore for the cake cutting ceremony. Omar wore his formal Western suit. Soon after, the newlyweds left the party on a car parade. Instead of going to the groom's home where his mother would welcome them with milk and dates, they opted for a hotel to celebrate their first wedding night. They were followed by many cars from the wedding in a long celebratory procession, honking and shouting happily.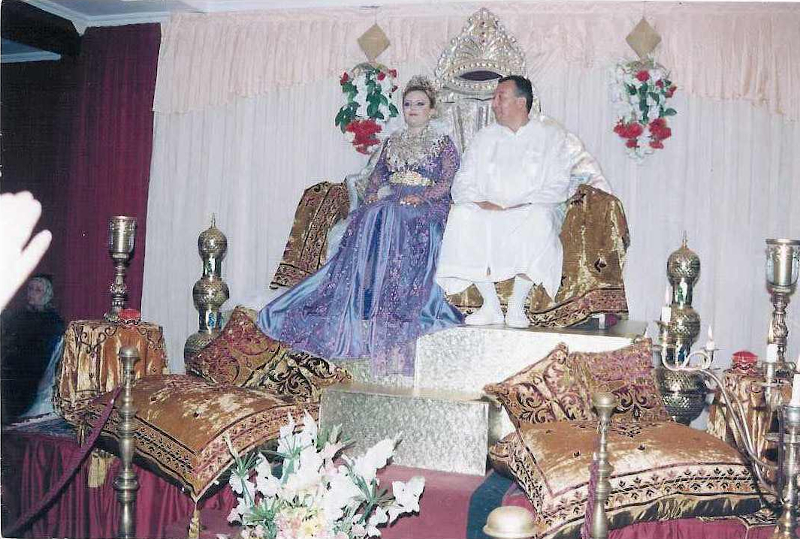 Khalid and Mona at their wedding, Tangier, Morocco, 2010. Photo: Habiba Boumlik
Ethnographic research reveals great local variety, as the rites practiced are multiple and are not uniform for all regions. For instance, in the families that identify as Amazigh/Berber, each step of these rituals is accompanied by tanggift songs, generally not associated with music or dancing. They are sung in turn by two groups of women, one speaking on behalf of the groom, the other on behalf of the bride.
Notwithstanding the great diversity of traditions and customs, the increasing urbanization has led to the generalization of some culinary, musical and sartorial practices. Dishes served during the wedding ceremony tend to be chicken with pickled lemon, lamb or beef with almonds and prunes, chicken or seafood bastila, a crispy large pie, bread, fruit and bubbly drinks, pastries and mint tea. Family who can afford it also serve a variety of appetizers and juices. And while there exists a rich repertoire of wedding songs, you could hear some hit-parades in most weddings throughout the country, performed by hired bands or by the guests. The wedding fashion has also experienced a growing tendency towards uniformization. The bride is adorned with outfits reflecting an influential region of Morocco (Fes, Souss, Tetouan...) stressing the amalgamation of various cultural practices. The borrowing and integration of foreign cultural elements (Indian, Yemeni, French) further delineates the cultural hybridization that has been intensified with migrations and social media.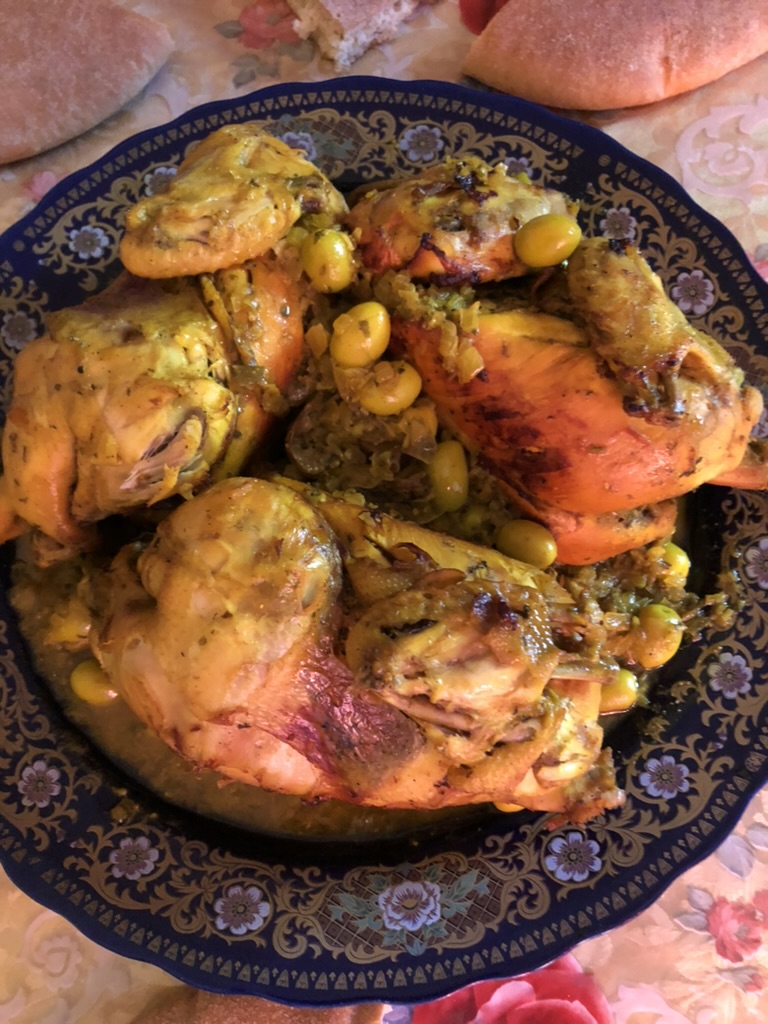 Stuffed chicken with olives and pickled lemons, a typical dish that is often served in weddings. Photo: Habiba Boumlik
Fadwa and Omar would like to ask you these questions: How did/will you get married? Could you imagine what someone might notice if they were anthropologists/strangers?